Category Archives:
Book Tour
I'm in the States for a few weeks this summer, visiting from Nairobi, Kenya, where I moved late last year. Since I was making the loooooong trip across the pond (and past a couple of seas) I figured it would be great to get a few bookstore and library visits in. First stop, Washington, D.C.!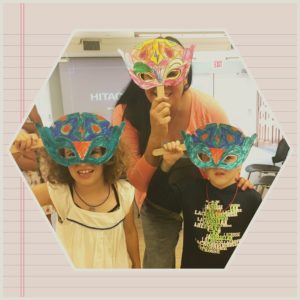 I did a story time at East City Bookshop, a really wonderful, year-old not-so-little but not-too-big bookstore in the Eastern Market neighborhood. It is just right! It felt so comfy to me that I went back after lunch and spent some time there browsing, relaxing on their comfy sofa downstairs and buying books to take back with me to Kenya when I return.
Next stop in D.C. were two events set up by Politics & Prose bookstore. The first was at the Takoma Park, Maryland public library and the other at D.C.'s Petworth library. At both I did a story time and talked a bit about how I came up with the idea for the book. Then we made máscaras!
I feel waaaaaaay better knowing there are now a few good luchadores on the loose in our nation's capital.
Before I headed to the airport to Miami (next stop Books & Books!) I made a pit stop at the Politics and Prose on Connecticut Ave. It was Saturday afternoon, and GOOD LORD, that store was JAM-PACKED. So nice to see so many people clamoring for books. And coffee, at the cafe downstairs. Lots of people clamoring for coffee.
And look, that's me and Lucía the Luchadora listed in Politics and Prose's monthly guide and in their 2017 Children and Teen's Department Favorites booklet. Gracias P&P!