Category Archives:
School Visits
I ended my book tour in Houston, where I visited an array of places – from libraries to schools to bookstores to speaking at my alma mater, Rice University.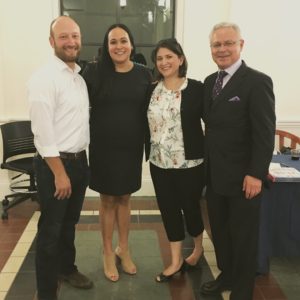 Rice was my first stop in town. I gave a talk on the craft of writing for children and why grown-ups should read picture books. Rice has a lovely campus, which has only gotten nicer over time with the mix of classic and modern architecture. The talk was hosted by Rice University Public Affairs' Multicultural Community Relations and SOLAR, the Society of Latino Alumni of Rice. Mil gracias!
I visited one school in Houston, or technically, in Bellaire – Horn Elementary. But I also got to read to preschoolers from Ninfa Laurenzo Early Childhood Education Center at Houston Public Library's Stanaker Neighborhood Library. The kids also worked on coloring their own masks, you know, to go with the capes all of them were wearing already. They got this superhero thing down!
On my final day of book touring, I visited Brazos Bookstore for a story time and signing and also did another story time and craft activity at Houston Public Library's Jungman Neighborhood Library. Visiting the libraries made me miss the neighborhood libraries in my former home of Washington, D.C. I'm glad I got to spend time in a few good ones while here in the States.
And that's it. Fifteen days of a packed book tour in the books! And I enjoyed every minute of it.
I hope to do some more book signings and story times next time I return to the U.S., later this year.